Modifying the Pierce "PM-I" 5-port cylinder head for the MGB.
The Pierce PM-I cylinder head is a popular, stock replacement type cylinder head for the MGB. Because it is made from aluminum rather than cast iron, it is less prone to cracking and lighter in weight than the factory head it replaces. To achieve better than stock performance however, the PM-I requires just as much effort and attention to detail as it's cast iron sibling would.

---

Disassembly of the head will reveal the port short turn shaping and seat detail. We do not believe the factory sharp-edged short turn shaping or two angle seat detail is optimal for proper airflow.

Shown above is our modified inlet port short turn and hand blended intake seats (which now accept larger 1.625" inlet valves). The larger valves and modified port increase the airflow potential of the cylinder head considerably.

The PM-I chambers are similar to the later style OEM heads for depth and volume. Owners of pre-18v blocks should be aware that valve relief notches may be needed in the block if larger than stock valve lifts are planned in conjuction with this cylinder head.

Our modifications to the combustion chamber are minimal, the CNC work done by Pierce leaves little room for additional creativity.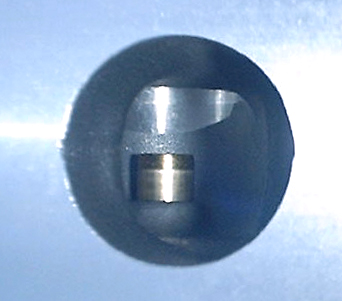 Shown above is the PM-I inlet port from the manifold face. We've found these heads to be pretty generous in size right from the factory, necessitating material removal from only some key locations for proper modification (you can't port what isn't there).

Our fully ported version of the above intake port shows mostly cleanup work and minor reshaping. We focus on the divider shape and short turn detail above all. Getting the air around the bend without trauma is a difficult task at best and the majority of our time is spent dealing with this aspect.

Another view of our modified inlet port from the manifold face reveals the modified port divider form. We've re contoured the divider adjacent each port's short turn for better airflow performance.

In contrast to a factory cast iron head, the PM-I exhaust ports are much more even in cross sectional area throughout, allowing for more efficient gas flow once modified.

Once modified, the PM-I exhaust ports are capable of flowing nearly as well as those of a cast iron head.
CFM flow numbers at 28"H20 for the above cylinder head.

Valve lift
Inlet
Stock Flow
Modified Flow
.050"
26.8
28.3
.100"
52.6
54.8
.150"
73.6
80.0
.200"
92.8
102.4
.250"
107.5
120.8
.300
114.0
133.0
.350
119.0
139.8
.400
122.2
143.0
.450
124.0
146.0
.500
127.0
148.0
Valve lift
Exhaust*
Stock Flow
Modified Flow
.050"
22.5
24.5
.100"
43.0
47.0
.150"
63.0
68.5
.200"
76.5
82.0
.250"
84.0
91.5
.300
90.0
98.0
.350
92.5
103.0
.400
94.5
105.5
*Same modified valve used for each test.

Additional Notes:

---
One concern we recently have had with these cylinder heads (stamped with identifier 081 T ) is the instance of the valve guides offset toward the front of the cylinder head. This can be seen in the above photo by the lack of concentricity of the spring shim to the guide (even though the spring shim is perfectly centered in the spring pocket). This is an obvious machining error and is present for all of the guides uniformly throughout the improperly machined heads. The manufacture has informed us that they have not received complaints (the error has not caused failures they are aware of) and they feel the offset is acceptable for the standard, stock replacement use they intend the cylinder head be used for.
Those wishing to modify, or have modified their cylinder head should take note of this problem, as larger valves and/or increased valve lift will make the incorrect placement of these valve guides potentially very problematic. If you were hoping to use one of these heads on a smaller bore MGA, we would especially advise you to check valve to cylinder wall clearance carefully before proceeding.
---
Home | Cylinder Heads | Articles
For Sale | Contact
Unless otherwise noted, all material is:
©2010 Sean Brown
All rights reserved.